Hello,
So in this game, we give you the chance to win some coins. How does this game work.
You have to hit Post Reply, then select Dice Roll and add 2 dice for the roll and then select Multiplier and add 1 roll for it. The dice roll will give two dice. The dice faces will be summed and the result of it will be multiplied by the number you roll using the multiplier.
But be aware, if your result for the multiplier is not one of the number 1 to 6 but the heart, the dice faces will be deducted from your next roll. If the points you bring on your next roll is not enough to cover the deducted amount then it will stand for the next roll as well. Please also mind that once you have the heart, and once you reach the needed points in order to gain points again, next hearts will not count and as well with that if you roll 1 and 2 with the heart (which means 2) and then you bring 6 and 6 and six for the multiplier, because you have points to be deducted the roll will not give you 72 coins but 0 as you had the heart on your previous multiplier roll.
All member are allowed to roll and you may roll
once per day
.
Have fun!
Hashtags:
#Forum
#Games
A test to see it..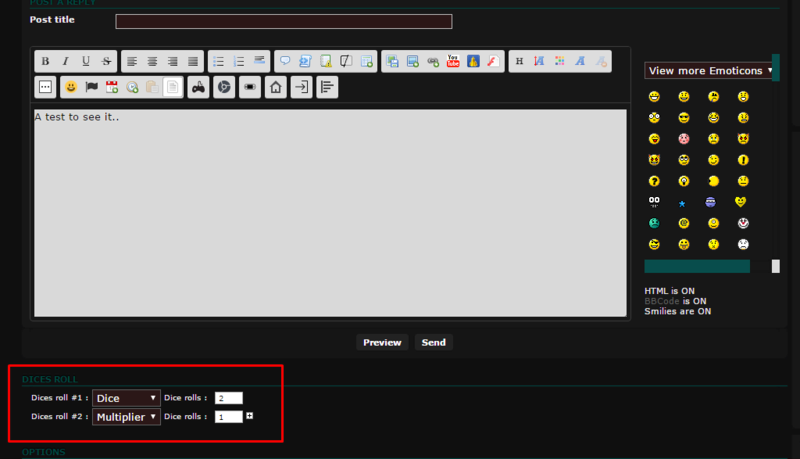 The below result means:
4+4
----
8 times 4 = 32
Last edited by Luffy on Tue May 23, 2017 12:56 am; edited 1 time in total
The member '
Luffy
' has done the following action :
Dices roll
---
#1 'Dice' :


--------------------------------
#2 'Multiplier' :

Gaming Master







Posts :

42



The member '
Nightdragon
' has done the following action :
Dices roll
---
#1 'Dice' :

--------------------------------
#2 'Multiplier' :

Gaming Master







Posts :

42



---
Permissions in this forum:
You
cannot
reply to topics in this forum