Page 3 of 3 •
1, 2, 3
First topic message reminder :
Hello everyone,
Think Tank Forum is happy to announce the first competition after the Forum has re-opened. This competition is about
The Witcher 2: Assassins of Kings - Enhanced Edition
game.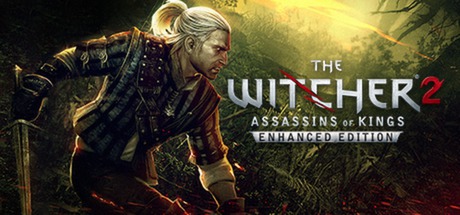 About the Game
The player is Geralt of Rivia, a professional monster slayer, a witcher. Entangled in the political turmoil that engulfed Temeria, Geralt helped quell the rebellion of the Order of the Flaming Rose. Soon after, he saved King Foltest's life when the monarch was attacked by a witcher-like assassin. He continues to protect the king, serving as his bodyguard as Foltest strives to bring peace to his kingdom. The Order's last bastions have yielded to the royal army, yet one more task remains - the Baroness La Valette announced her secession from the realm, and her fortress must be taken. A month after the attempted assassination, Foltest's armies stand at the gates of La Valette Castle, preparing for a final assault. Still at Foltest's side, Geralt is among them, unable to begin his personal quest to discover the mysterious assassin's origin and identity…
Thanks to the new, ultra-modern REDengine, The Witcher 2: Assassins of Kings features both beautiful graphics and sophisticated in-game mechanics, drawing players into the most lively and believable world ever created in a video game.
Defining new standards for realistic, non-linear game narration, The Witcher 2 spins a mature, thought-provoking tale to produce one of the most complex and unique RPGs ever released on PC. In addition to its epic story, the game features a complex combat system that uniquely combines dynamic action and tactical depth.
Enhanced Edition Features:

Compared to the initial award winning PC release, the Enhanced Edition features lots of new and exciting content:



Additional hours of gameplay: New major adventures set in previously unseen locations, expanding the story and introducing new characters, mysteries and monsters.

New Game Introduction and cinematics: All new animations and cut scenes, including a new, three and a half minute pre-rendered cinematic depicting the assassination of King Demavend of Aedirn.

BAFTA Award winner and Academy Award nominee Tomasz Baginski brings this key historical event to life, setting the stage for the story told in The Witcher 2.

All of the up-to-date DLC and improvements introduced in the 2.0 version of the PC game, including:

Arena Mode – an arcade mode that allows players to fight against endless waves of enemies and test their combat skills.

Players can share their results with their friends by uploading high scores to the forums or to Facebook .

A new, extensive tutorial system - allows gamers to be gradually and smoothly immersed in the game world and Geralt's adventures.

Dark Mode – a difficulty level designed for hardcore players, with unique dark-themed items. At this difficulty level, even greater emphasis is placed on battle preparation, defensive maneuvers and opportunistic attacking.

Official soundtrack in MP3 format.

World Map - A map of the game's world.

Quest Handbook - The Witcher 2 quest handbook for both novice and experienced role-playing fans.

Game Manual - A rulebook and interface explanation to help you get started.

Digital Comic Book - Reasons of state comic book

The game costs $22.40 ( €19.99 ) for Steam and $21.17 ( €18.89 ) via GOG for your PC.
Competition Rules
Here are the competition rules:


All members are allowed to participate.

You may post once per day. That mean that you can post for a second time after a 24 hour span after your last post.

You may post again before the 24 hour span, if you type "/Pay" and "/Entry" which means you will have to pay 100 T.T. Coins.

You may invite others if you want.

Once you have what it needs in order to win the game, you must take a screenshot of you and your result and send it to an Administrator. If that doesn't happen within the time span of 2 days, then the contest will continue on.

The game cannot be exchanged with money.

The winner will receive via email the KEY for the game after (s)he tells us whether (s)he wants the steam or CD key.

All entries outside the deadline will not count and entries that do not follow all of the below steps will not be valid also.

Enter the competition
To enter the competition you must reply to this post writing "/Entry" and using the "Roll the dice" feature. Once you hit Post Reply, you need to select the dice roll feature and add 5 dice to show up. The first member who gets all 5 dice with the same number on all 5 of them, will win the game. Simple and easy.
The deadline for this competition is June 21nd, 2017, @ 15:00 CET.
*** If no user manages to win the game until deadline, then there will be an extra time span. ***
Hashtags:
#Contest
#The
#Witcher
#Assassins
#Kings
#Enhanced
#Edition
Last edited by Luffy on Thu Jun 08, 2017 11:06 pm; edited 2 times in total
---
The member '
Nightdragon
' has done the following action :
Dices roll
---
'Dice' :





Gaming Master







Posts :

42



Page 3 of 3 •
1, 2, 3

Similar topics
---
Permissions in this forum:
You
cannot
reply to topics in this forum